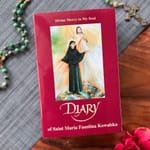 I first purchased this book when I joined a group devoted to studying Sr. Faustina's memoirs and praying the Divine Chaplet of Mercy. This book is actually a culmination of 5 notebooks Sr. Faustina wrote during her time here on earth. It details her daily life experiences, her sufferings and her joys, as well as the visions of Jesus she experienced.
The one thing that really struck me reading and re-reading this book is the physical suffering she endured and still she looked to the cross. Still she offered up her sufferings to be in union with Christ.
It's a beautiful, inspiring story of how one little quiet nun's experiences resulted in a world-wide devotion to Christ.
I give it: 5 "Chaotic" Stars!